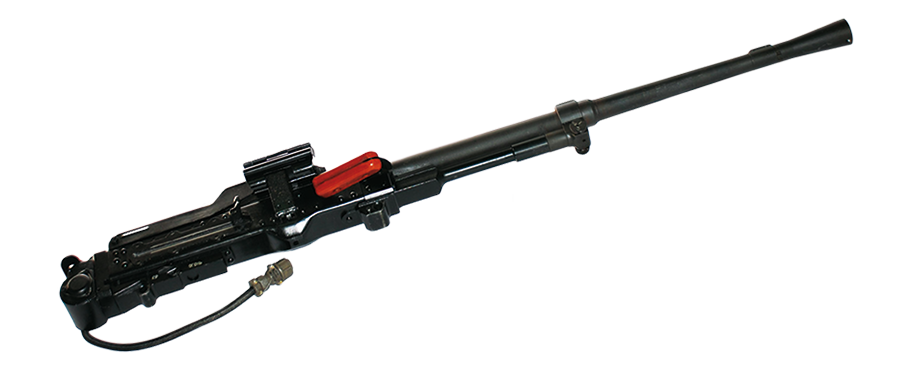 Purpose: as an auxiliary tank weapons on aircraft and other military equipment. Kalashnikov tank machine gun KT-7.62 - is Ukrainian analogue of the Russian PKT, which is designed for installation on tanks and towers at various armored vehicles. Kyiv plant "Mayak" presented this Kalashnikov tank machine gun KT-7.62 on the exhibition "Arms and Security of Ukraine" in 2011.

Machine gun repeats basically all features of Soviet PKT, but the designers have set on the receiver the Weaver rail and increase the resources of the barrel up to 25,000 shots. In addition, the soft box has been designed for ammunition that folds and weighs 8 kg with ammunition. After working the box can be folded and used again after reloading.

This machine gun model is equipped with a automatic system of removal powder gases. Automatic machine gun operates on a system of removal of powder gases from the barrel with a long gas stroke. Gas removal mechanism is located under the barrel. The barrel is locked using the rotary shutter. Shooting is conducted with an open shutter only burst mode. The barrel is provided with a flame arrester. Cooling of the barrel is fully air.

Feed system is two-stage, using ammunition belt (bag with belt is attached to the right side of receiver).

Instead of trigger, KT-7.62 has electric trigger system - that is activated by pressing a button of weapon control block in the tank or armored personnel carrier. Also weapon control block may be located on the turning handle of combat vehicle. Electric trigger is connected to the onboard an armored car with a special cable (length - 50 cm). If electric trigger is broken, there is the manual system of opening fire. For this purpose, a mechanical trigger is used, which is located on the rear side of the box.

Machine gun has not external sights. Interestingly, this machine gun can be converted into infantry machine gun if the need arises. To do this, first you need to remove the the electric trigger from the weapon. Secondly, you need to attach the butt with pistol grip (plastic and plywood) on free space. Third, remove the protective rail and connect the trigger with a homemade hook. Then you need to attach on the barrel the front sight, which acts as a rear sight.

Machine gun KT-7.62 be improved by optical or night sight, if it is necessary.